My creepers have sadly broken down, but I've worn them nearly everyday for nearly two years so I think it's reasonable that the soles have grown holes and the suede has turned from black to brown. What I'm saying is, I need new shoes. Sadly, I can't buy new shoes because I need to save my money for Christmas presents and I spent quite a lot on H&M stuff the other day (boxing day sales I will be buying lots of shoes). Because I can't afford shoes right now, I thought I'd do a wishlist about shoes.
Black heeled lace up boots are my favourite kind of boots at the moment. I really want something that has a heel and is casual too. I love these Topshop boots because they remind me of Converse but leather and with a heel. Topshop have loads of boots similar to this is loads of different colours and patterns so I recommend everyone to have a look! Perhaps they're not the perfect Winter shoes when thinking about practicality, you can't exactly walk through snow with them, but they look amazing and they would probably keep your feet warm and dry (maybe).
I already have a pair of purple Dr Martens and I've been wearing them a lot more since I've gotten a bit bored of my creepers. When I bought my Dr Martens last year I was undecided on whether to get shoes or boots, after trying on the shoes and realising that they're actually really uncomfortable, I got boots. However, I think these 1461 shoe Dr Martens are really nice. I love the colour, it's perfect for Winter and matching with tartan. Dr Martens are more appropriate Winter shoes because of the thick leather and the grippy sole so you won't fall over on ice (because that always quite embarrassing).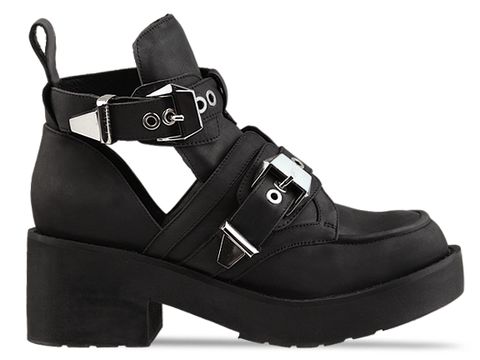 I've seen so many people wearing boots similar to this and I love them. The cut out section is really clever because it means you can wear cute socks and everyone can see them. They also come in white, but I thought that these are more appropriate for Winter. These boots are Jeffrey Campbell so they are slightly out of my price range, but there are loads of high street versions available from pretty much everywhere. They are good for Summer and Winter because you don't have to wear socks if it's warm but if it's cold you can wear socks, very versatile.
Chelsea boots are still in this season and I really like these traditional looking ones. They would go really well with a tartan coat and jeans. The leather would keep you warm during Winter and the elasticated section makes them comfier too.
There are so many pretty boots out there at the moment but I'm going to wait until after Christmas because then I can get them cheaper in the sales (hopefully)
Lots of Love
Sophie
xxx
ps. my boyfriend made a youtube channel and I'm in a video so have a look
click click click